Like a program but better!
The What Where When Guide is the participants' guide to all the many silly, inspiring, delightful, loud, quiet, thoughtful, foxy, exotic, expressive, interesting, beautiful, humbling, and yummy things that happen at Playa del Fuego.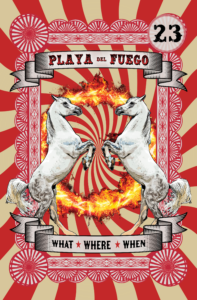 IT'S HERE! Download / Print the WWW today!
Print Settings: Print on both sides (double-sided) & flip on short edge. After printing, make sure the cover is facing out and fold all the pages in half like a book. You're done!
WWW submission deadline (to be included in the print version):
Monday, May 1st CLOSED
Want to know what events other people have already submitted?
There might even be some late additions that didn't make it in the print WWW!
Let everyone know WHAT you're doing, WHERE it will happen, and WHEN it will be!
Events will be automatically added to the live event listing online. The deadline to be included in the print version of the WWW has passed.